Research in the Hampshire Record Office was revealing. Because of 'you know what', we couldn't or were reluctant to go and research in person, but the catalogue showed that there were relevant documents. These eventually arrived, and are summarised below:
| | |
| --- | --- |
| | A Statement of Account headed Chelsea Water Works, dated 1794 (11M49/468), together with a note to a Mr Dunn to begin 'cutting the wood'. From other parts of this letter, we understood this to be for oak 'starts' and elm 'floats'. £224 had already been paid and there was a balance due of £212 13s 6d. A comparison site suggests that this would be around £26,000 today. |
| | Then in 1820 a letter from Thomas Simpson referring to two estimates for Water Wheels and Engines and pushing hard for the business – iron pipes had already been provided. (H/C/3/2 11M49/E/B1/15/2). |
| | Another document was a letter from architect Lewis Wyatt (1777-1853) dated November 1820 sent to the Rev J Orde, brother-in-law to the then Duke, and it seems, acting for him while the Duke vacated the house for the substantial work. The Reverend Orde was vicar at nearby Winslade. |
What next? It is possible that the ironwork and the early use of iron pipes makes the structure worthy of Statutory Listing and we expect an application to be done by the Conservation Officer at Basingstoke & Deane Borough Council in due course.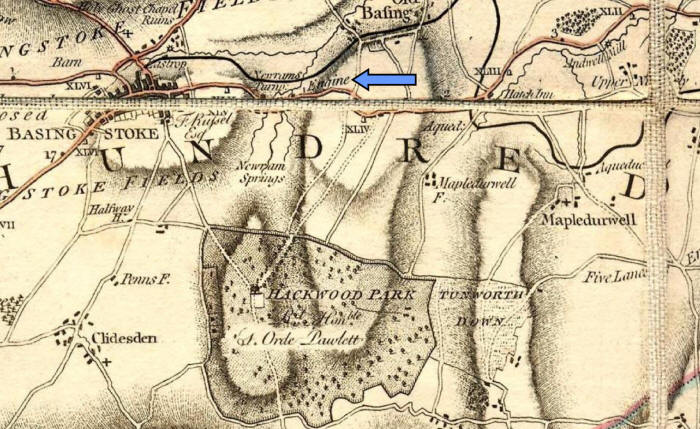 Milne's Hampshire Map of 1791. Is this the Engine pumping water to Hackwood?
Editor's note: The report in Industrial Archaeology, A Guide published in 1975 by Southampton University Industrial Archaeology Group (SUIAG), edited by Monica Ellis, reads:
On the opposite side of the A30 from Hackwood House is an iron waterwheel, about 6ft in width, breastshot, which used to drive pumps to supply water to the house. The machinery is in a square brick building with a slate roof and is still used occasionally to supply water to some nearby estate cottages.
(Text by permission of Hampshire Industrial Archaeology Group, successor to SUIAG.)
There are several similar (but probably newer) examples of water wheels in Hampshire that were used to pump water to country houses. HMG looked at several of these, of which the two shown in my pictures below at Brambridge House (left) in 1993 and Worthy Park (right) in 2005, both on the River Itchen, are typical examples.