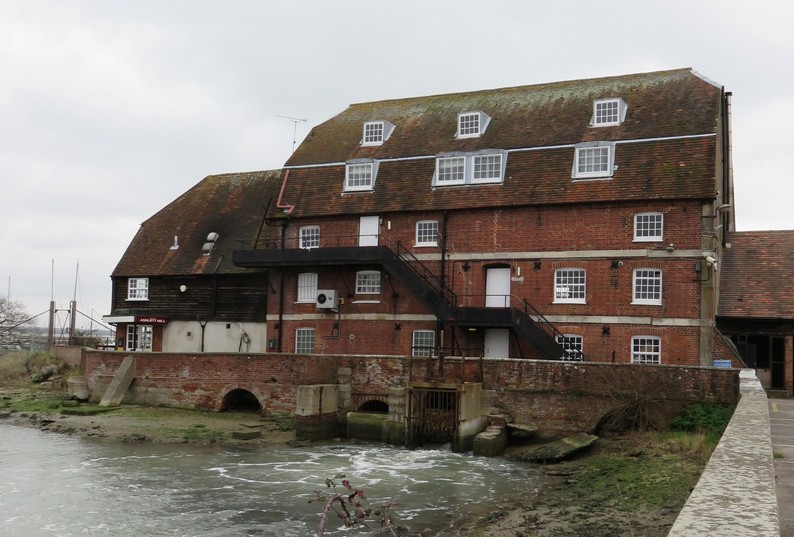 On a rather cold day in late March, Eleanor Yates and I visited Ashlett Tide Mill to find out what types of birds feed in the mill pond. We arrived as the silt in the pond was just beginning to be covered by the inrushing tide (photo), and were amazed at the number of waders present. We stayed for a couple of hours before deciding that it really was too cold to continue.
In that time we counted 15 redshank and 2 greenshank, with a bunch of about 20 black-tailed godwits, and a solitary little egret. The godwits, having longer legs than the redshanks, stayed in a group in the middle of the pond until they were almost afloat.
We also counted 5 Canada geese, up to 20 mixed teal and widgeon, 2 shelduck, 2 mallards, 2 moorhens, and 5 black-headed gulls. On land there were house sparrows in the brambles, pied wagtails on the roof of the mill, and the usual magpies, collared doves, and blue tits in the bushes, plus an unexpected roe deer which stood completely still for the whole time we were there. Two oyster catchers flew in after the pond had filled and a kingfisher perched on an upstanding branch, just long enough for a (rather poor) photograph.
None of this has much to do with the mill, of course, except to demonstrate how birds are attracted to the undisturbed and sheltered mill pond. In contrast the open water on the seaward side of the mill was completely devoid of visible wildlife, apart from 15 Brent geese on a far off mud bank.