The creation of the Minack Theatre, hewn out of the granite cliff at Porthcurnow just to the west of Penzance in Cornwall, was the lifetime's work of a remarkable woman, Rowena Cade. Well worthy of a mention here? Because, in Minack's little museum, a list of her family's enterprises links her with not only renowned ancestors, but to one of the Derbyshire cotton mills which Rowena's father inherited from his mother, making Rowena Cade a wealthy miller's daughter.
Known as the Derwent Mills Valley, a nominated World Heritage Site, the River Derwent's water power was harnessed firstly by Richard Arkwright for his pioneering Cromford Mill, flowing on to later supply Jedediah Strutt's Belper mill, the Evans brothers' Darley Abbey mills, Lombe's Silk Mill, through Derby to Cade's Mill at Spondon. The river meanders on through Borrowash to join the River Trent at Great Wilne.
The village of Spondon had become famous for making silk gloves prior to the Industrial Revolution; the cottage industry of families working at spinning frames made gloves and stockings, the silk being delivered from Nottingham and later returned as wearable items.
Mill Row, a terrace of stockingers cottages, along with The Homestead, a magnificent Gr 1 listed building dating to 1740 and noted as one of the finest Georgian buildings in Derbyshire, are in the village conservation area.
The Homestead had been the home of Dr. James Cade, a Derby surgeon and descendant of Joseph Wright, artist, and Sir Henry Fowler, Chief Engineer for the London Midland and Scottish Railway; all forebears of Rowena's father, Charles James Cade.
Spondon Mill became an industrial site in 1916 when it was re-equipped to manufacture waterproofing for aircraft wings by the British Cellulose & Chemical Manufacturing Company; it underwent further changes of industry and ownership including British Celanese and Courtaulds. It is said that several new acetate yarns were developed there. Lastly, it was owned by Acordis, employing approximately 800 staff on the 360 acre site.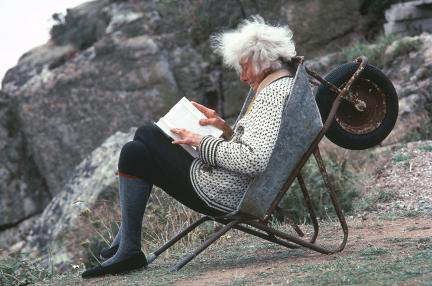 Rowena Cade was obviously quite a character and the Minack Theatre has kindly given us permission to reproduce this delightful photograph of her – looking every bit as though she could have been a member of the HMG workforce. Sadly, an image of Cade's Mill was not found.