Mill history isn't just about the building but about the community who built, maintained, worked in, supplied with raw material, bought the finished products and shipped it. That means builders, millwrights, grain, flax and hemp growers and suppliers, mill owners, mill workers, the rag sorters (for paper making), carters and boat owners for transhipment, sail makers and so on. What can you tell us about the Hampshire mills you know?
Please do contact us !
Perhaps, stashed away in an old suitcase, you have old pictures, photographs or postcards depicting the mill buildings or the people connected with them. If you do, will you share them with us? We would love to be able to 'fill in the blanks' and make all the histories on our county's mills complete. Here is a good example: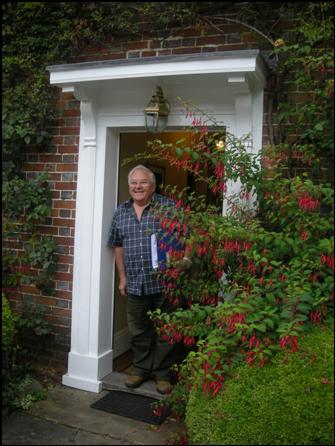 Tom Hine visits the former home of his milling ancestors at Donnington Mill House
.
Berkshire local milling family researcher and historian, Tom Hine, has been researching his family tree for some years and has traced several lines to millers of one Hampshire mill (Harley Wespall) as well as various Berkshire mills, such as Calcot, Tidmarsh, Hamstead Marshall, then recently discovered that one of his relatives had been miller at Donnington Mill on the River Lambourn.
Hampshire Mills Group's Webmaster, Ashok Vaidya, who lives in the Mill House and has acquired a lot of Donnington Mill's history in text and photographs, invited Tom to his home and the two swopped a great deal of knowledge.
A tour of the mill's remaining brickwork, sluices, plus the turbine and wheel pit capped a fascinating morning for Tom. It was a great help to him to see the mill site and learn about the river as well as previous mill owners' interactions with neighbouring millers, and, whilst walking back through the mill house, Tom could imagine his great aunt giving orders to the servants!.