Page 3

Newsletter 136 Spring 2022 © Hampshire Mills Group
<![if pub11]>

Bisham Temple Mills

A brief history by Sheila Viner
Photographs are shown by kind permission of Brian Boulter

Ask most people what they know about the River Thames and you are likely to get three considered replies:

1. London's Docklands;

2. The scandalous parties at Cliveden in the 1960s; and

3. Henley is on it and has an annual Regatta.

Well, let me add that Nelson's fighting ships were fitted with copper processed in a mill sited in the middle of the River Thames near an abbey where Crusading Knights once honed their battle skills and now where national and international athletes train.

The heavily industrial three Temple Mills at Bisham milled, hammered, and manufactured domestic wares, construction industry and marine items throughout several centuries utilising the power of a particular area of the River Thames. Today, it is a quiet island of expensive, gated housing.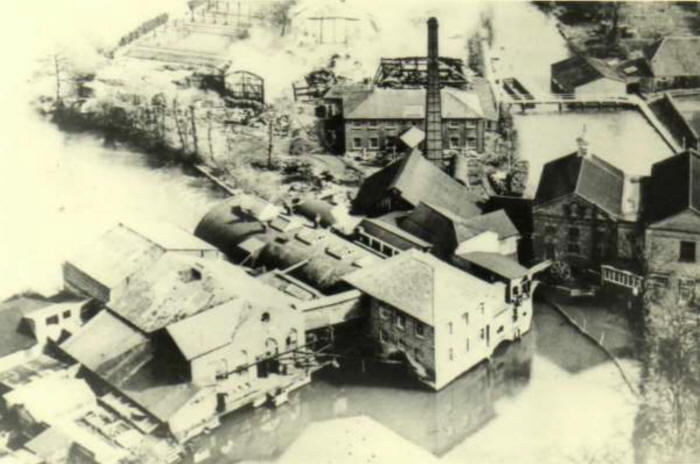 Bisham Temple Mills from the air about 1960 following a fire in the paper mill
Temple Mill Island is in the River Thames, upstream of Marlow and just downstream of Temple Lock. Bisham is on the Berkshire bank close to Hurley which had its own working watermill producing paper alongside Hurley Lock.
The area name is derived from the time that the Knights Templar inhabited Bisham Abbey where monks had operated a corn mill. It is possible that the river also powered a forge for making or honing swords and/or chain mail production. These days it is named after the three watermills that used to be on Temple Island; it once boasted of having the largest waterwheel on the entire River Thames.
In around 1710 it was engaged in the heavier industrial use of a copper foundry. Ten years later Daniel Defoe passed through the Marlow area on his travels and referred to the mills in his A tour thro' the Whole Island of Great Britain (1724-1727):
"…three very remarkable mills, called Temple Mills, for making Bisham Abbey Batterie-work viz. Brass Kettles and Pans &c of all sorts. And these works were attended with no small success, till in the year 1720, they made a bubble of it; and then it ran the fate of all the 'Bubbles' at that time."
And, of course, he called it BISHAM ABBEY BATTERIE WORKS because of the continuous metal bashing noise which could be heard over a wide area as the hammerings echoed around the valley.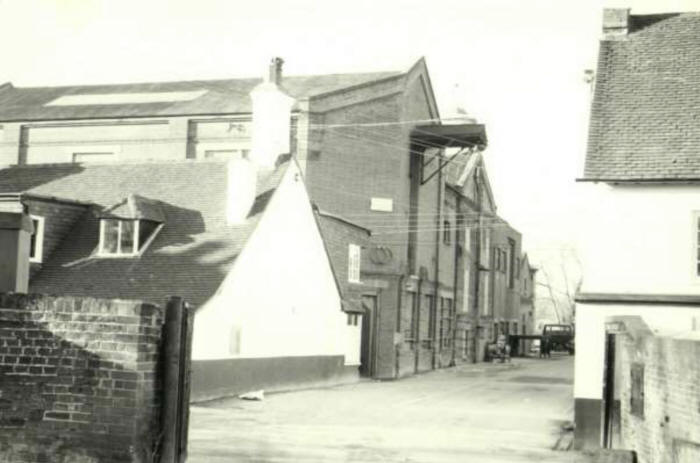 Mill 1, 'The Old Copper Mill',
with subsequent additions
<![if pub11]>

Mill 1, Head Elevation

Mill 1, Tail Elevation

The Upper Bank works were initially used in the production of lead and zinc, but in 1782 ownership was transferred to Thomas Williams who converted it to copper smelting and operated it on behalf of the Parys Mine Company. Ore was mainly obtained from Cornwall, purchased by his Cornish Agent, John Vivian.

Thomas Williams of Llanidan was the entrepreneurial new owner of Temple Mills by 1788, which created a complete cycle of raw commodity to finished product by shipping the mined ore around the coast from Cornwall to his smelting works in South Wales, then transporting the smelted copper by trow from Swansea to Brimpton Port in Gloucester, from where it was transferred to a Thames barge and completing its journey to Bisham via the newly opened Thames & Severn Canal. Besides producing domestic ware, such as Defoe reported, the foundry hammered out copper sheathing for the hulls of wooden sailing ships, plus the necessary bolts and nails for fixings. Vessels bearing copper panels were saved from wood boring by marine worms, clinging seaweeds, and other potentially hazardous marine life.

Mr Williams, known as 'The Copper King' became elected Member of Parliament for Great Marlow in 1790, maintaining his seat until his death in 1802. He meanwhile had a mansion built, Temple House, suitable for entertaining. It is said, however, that Queen Victoria was very unhappy about the way that the Williams family at Temple House aided the louche life style of the then Prince of Wales, the future Edward VII. He is reported both to have had an affair with one of the Williams family's daughters, the Countess of Aylesford, and to have brought a favourite mistress, Lillie Langtry, to Temple House.

The works were transferred in 1802 to his son, Owen Williams, a long-time associate of Pascoe Grenfell and Grenfell's brother, William. Trading as Williams Grenfell & Company, this firm, in various guises, continued to smelt copper at these works into the twentieth century. The Grenfell family owned the Taplow Estate, between Cliveden and Maidenhead.

Mills 3, 2, and 1 from the mill pond

Downstream view from Mill 1

In 1848 T Weedon & Sons took over the site, altering at least one of the mills to manufacture brown paper, a common practice in our local mills as the water was not pure enough to produce white paper such as for bank notes. Paper and board making continued for several decades but what must have been an exciting, or certainly interesting, period took place during WW2 when papermill workers from Earlsfield were moved to the Bisham area and some of the Temple Mills machinery was adapted to carry out, in secret, the latest innovation for faster communication – ticker-tape.

After the war the site was used for waste paper storage and a brand new utility, Pitch Fibre Pipes, traded as Temple Tubes and used wholesale by the construction industry but which, as I can vouch, is not a good long term product for waste water piping in a very heavy clay area.

Closed in 1969, a fire swept through the old Bisham Temple Mills paper mill site. It was eventually sold to developers for superior housing with no sign of the industrial times.

For a detailed history and description of Bisham Temple Mills see the survey carried out by Brian Boulter and David G Wilson shortly before the site was demolished. My grateful thanks to them plus retired Temple Mills paper mill workers Robin Ellis Cooper and Frank Beard for allowing me to use their material and memories.

[ HOME ] [ Up ] [ MEMBERSHIP ] [ NEWSLETTERS ] [ MILLS BOOKS ] [ MILLS OPEN ] [ LIBRARY ] [ LISTED MILLS ] [ MILL HISTORY ] [ SNIPPETS ] [ MILLS OVERSEAS ] [ LINKS ]


Copyright © 2022 Hampshire Mills Group
Registered as a Charity - 1116607