A hydroelectric scheme has been installed at Fiddleford Mill on the River Stour near Sturminster Newton in Dorset. Specialist contractor Potential Energy LLC installed a water turbine for the local Pitt Rivers Estate, within the grounds of Grade 1 listed Fiddleford Manor House. The owner was keen to supply power to the historic mill and outbuildings. Recent technological advances in turbine efficiency allow small flows to generate electricity efficiently. The Archimedean screw turbine that has been installed can produce a maximum power output of 50kw and should produce 176 megawatt hours per year. This will provide power for a small community of around 35 average houses, since hydroelectricity is a flexible source of power and the amount produced can be adapted to meet energy demands.
Potential Energy LLC produced the scheme and working drawings complete with flow calculations to submit to the Environment Agency for their approval. The planning application was then submitted to North Dorset planning department in October 2011. It got passed in March 2012. One year after planning approval the turbine was commissioned during March 2013.
The water enters the Archimedes screw at the top and the weight of the water pushes on the helical flights. This allows the water to fall to the lower level and causes the screw to rotate, producing energy. It has been proved that Archimedes screws are fish friendly and fish can swim through the turbine downstream without harm.
As part of the scheme, modifications to the weir have been carried out to make it easier for fish and eels to migrate up stream more easily.
In August 2020 I walked from Sturminster Newton to Fiddleford Mill and was surprised at how well the turbine house has blended into the landscape: see photo. I particularly liked the view from the opposite bank where the roof of the turbine housing mimics that of the barns and has mellowed down to the colour of the barn roofs.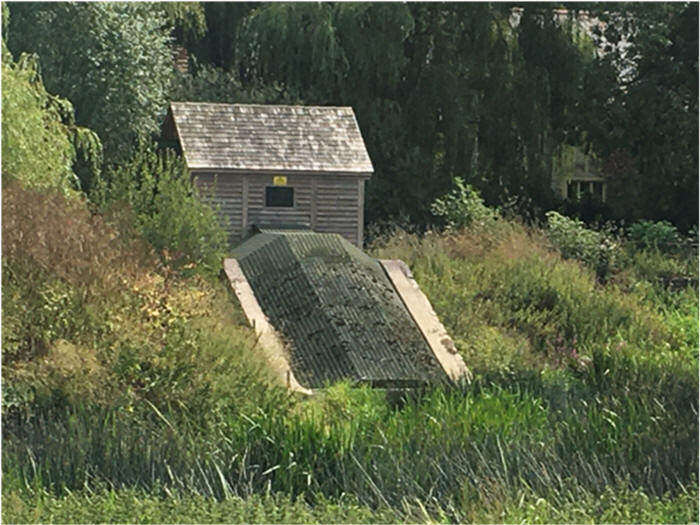 Technical information from Clegg Associates.