Page 2

Newsletter 129 Summer 2020 © Hampshire Mills Group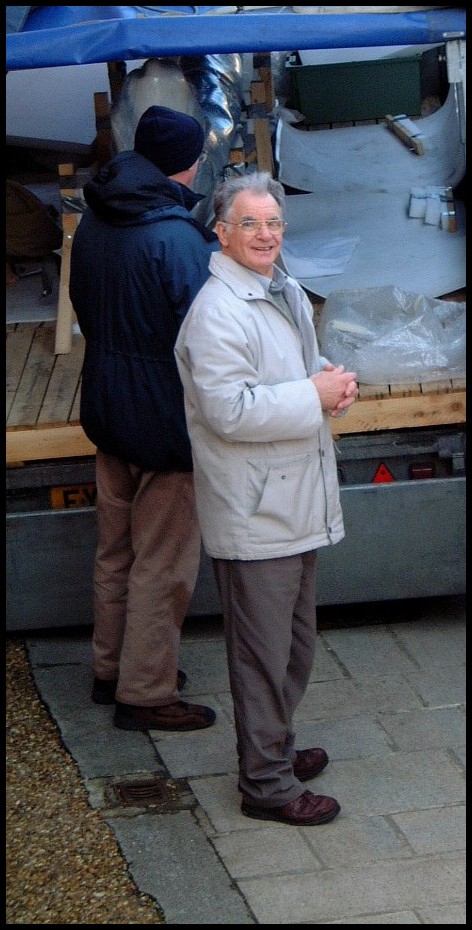 Jeff Hawksley died on March 25 from pneumonia, but not from covid-19. He was in his mid-80s and he and his wife Mavis, to whom we extend our condolences, had been HMG members for many years. They were also prominent members of Lower Test Valley Archaeological Society (LTVAS). The funeral was on April 6.
He was a regular contributor to Mill News, the quarterly magazine of SPAB Mills Section, and published a lot of other articles for a variety of organisations, including the HMG Newsletter. One of these A Flax Mill in Romsey is reprinted in this newsletter (thanks to former editor Sheila Viner for supplying the source files) and also An Unusual Wheel for Lifting Water in France (Newsletter 96, Spring 2012).
Phoebe Merrick of LTVAS writes:
Early in March, we were treated to a fascinating talk by Dr Jeff Hawksley about flax mills in Romsey. Sadly that is the last talk we shall ever have from him because a fortnight later he passed away with pneumonia.
Jeff had been a marine engineer and then became a lecturer at Southampton Tech, as Solent University was then known, and a visiting lecturer at the University of Southampton. He lived in Romsey for many years and became interested in aspects of the town's history.
His model-making skills were of the highest order. Working with the late architect, Don Hargreaves, he made a scale model of the frame of King John's House, that could be easily dismantled for demonstration purposes.
Later on he became very interested in Berthon boats and spent many hours tracking down the patented plans of them. Subsequently he made a model of a Berthon boat which is in King John's House. He also made a simpler model to demonstrate the basic principles of how Berthon boats folded and unfolded which is much appreciated when talks about Berthon are given.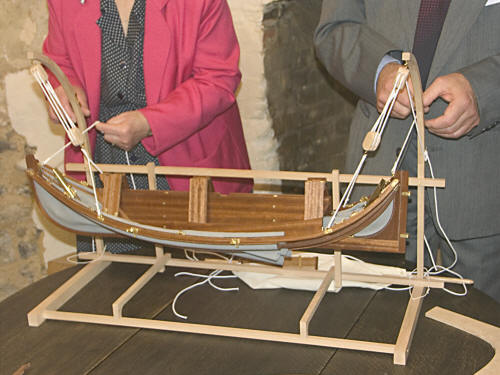 He was one of the leading lights of our mills project that led to the best book we have ever produced, Romsey's Mills and Waterways. For weeks our workshops were full of discussions about the horse-power that given streams might generate, amongst other technical matters, and his plan of Romsey's waterways has become a classic. His wife, Mavis, to whom our sympathies go, played a significant role in this research as she interviewed a number of people who had personal memories of the town's mills in operation.
Peter Hill writes:
We first met Mavis & Jeff in 1997 when we were waiting for transport from the airport having arrived in Hungary for the TIMS Symposium in Budapest. This was their first experience with TIMS and having ourselves been members for several years we went over and welcomed them. After the accustomed handshakes they announced that they were Mavis & Jeff Hawksley, immediately adding that they were definitely not related to the Ronald Hawksley (whose reputation I am sure you are well aware of!).
We subsequently had many happy times with them at SPAB meetings and on mill tours. He was a true gentleman and will be greatly missed.
Editor: I have vivid memories of looking at mills in France with Jeff. He could produce a reasonable sounding approximation of French which mostly consisted of sort of harrumphing noises. Quite memorable!
A note on Berthon Boats (from Wikipedia):
Berthon Boats are collapsible lifeboats used in the late 19th and early 20th centuries. They have double linings of canvas, sectioned into watertight envelopes that assist buoyancy and give protection from the possibility that the outer canvas could be accidentally torn. The canvas was also coated with "linseed oil, soft soap, and yellow ochre" to make it waterproof.
When, on the 18 June 1850, the SS Orion was wrecked off Portpatrick, a survivor wrote to the Reverend Edward Lyon Berthon saying: "Can not you think of a way in which boats, enough for all on board, be stowed on a passenger steamer without inconvenience?". This led to Berthon's development of the Berthon Collapsible Lifeboat. In 1877, he started a company in Romsey, building folding lifeboats and 'other floating machines'.
Berthon Boats are not to be confused with Berton Sails for mills which are a French system of longitudinal shutters running the length of the sail. The system, invented in 1842, is called Ailes Berton, commemorating their inventor, Pierre-Théophile Berton. These sails can be adjusted without stopping the mill.
Editor: I do wonder if Berthon was influenced by Berton.



[ HOME ] [ Up ] [ MEMBERSHIP ] [ NEWSLETTERS ] [ MILLS BOOKS ] [ MILLS OPEN ] [ LIBRARY ] [ LISTED MILLS ] [ MILL HISTORY ] [ SNIPPETS ] [ LINKS ]


Copyright © 2023 Hampshire Mills Group
Registered as a Charity - 1116607