Mike Pettigrew, a neighbour of mine, has been researching trout farming and fly fishing on the River Itchen, and he has found some additional information about Chilland mill. He has also drawn my attention to a detailed history of the mill compiled by Robin Greenwood, a fellow member of Worthys Local History Group; it broadly agrees with information in our own Mills and Millers of Hampshire, volume 1, but gives many more details and extends our knowledge of the fate of the mill after 1897. By this time the mill had ceased milling and had become a fish farm. In June 1899 the Illustrated Sporting and Dramatic News magazine reported in an article titled 'Trout Culture on the Itchen' that:
Close by the house is an old mill, in which the main hatchery is located. The mill is a quaint building, admirably suited to its present purpose. The ponderous mill-wheel which for years lay rusting in its bearings is utilised now for driving lathes, circular saws, and other machinery in the carpenter's shop, where all the apparatus of the fishery – screens, sluices, and the like, is made; as well as for turning the huge meat-chopping machines, and for pumping water into the large storage tanks from which the hatching boxes are supplied.
Robin further writes :
In 1927, the then tenant Lance Hannen removed the old vertical water wheel and replaced it with a horizontal water-driven turbine made by Gilbert Gilkes & Co of Kendal. (Information from Ian Clark who renovated it in about 2005.) He then connected it to a generator to supply electricity to Lower Chilland House. The plant was still in use in the mid-1950s when mains electricity came to Martyr Worthy.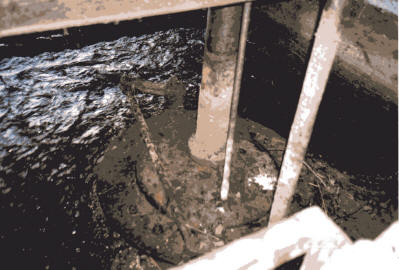 This means that the turbine is not Canadian, as our book implies.
For completeness, in the 1980s David Leeming founded a tile-making business (The Winchester Handmade Tile Company) in the mill before he moved the factory to Whitchurch.
The articles mentioned can be found from the website of Worthys Local History Group www.worthyhistory.org .