The next mill the group visited was Rhydlydan Mill, (SO0583593174), stands by the B4568 Newtown - Llanwnog Road. It is a detached building, not now associated with the nearby house and farm buildings. The mill building is mainly of stone, with brick used at the corners and around openings. It has four storeys (including the attic) but nearly all of the second floor is occupied by bins. The kiln is attached to one end of the building, with access from the mill on both floors.
A stable was built against the end of the mill but is derelict. The mill is in poor condition mainly from a defective roof and previously timber clad gables. One part of the kiln has collapsed due to being undermined by badgers.
A previous owner excavated the bank behind the mill and destroyed the mill pond The mill has a new owner who is preparing to start a renovation programme.
The large overshot waterwheel is placed within the building, and drove three pairs of stones by spurwheel gear.
This plant is most unusual, in that the stones are overdriven and most carry a double row of staggered cogs. The smaller machines were driven by two pinions engaging the spurwheel, and one engaging a bevel tooth ring on the spurwheel arms.
Apart from the waterwheel and the pitwheel, nearly all the plant is wooden. There are two flour dressers; being a wire machine and a bolter. The oatmeal machine was an open-fan type, under the meal bin. A late 19th century American smutter stands on the first floor, but not in its working position. The slack-belt sack hoist is in the attic and has the local 'latch-off' mechanism, as at Pontdolgoch.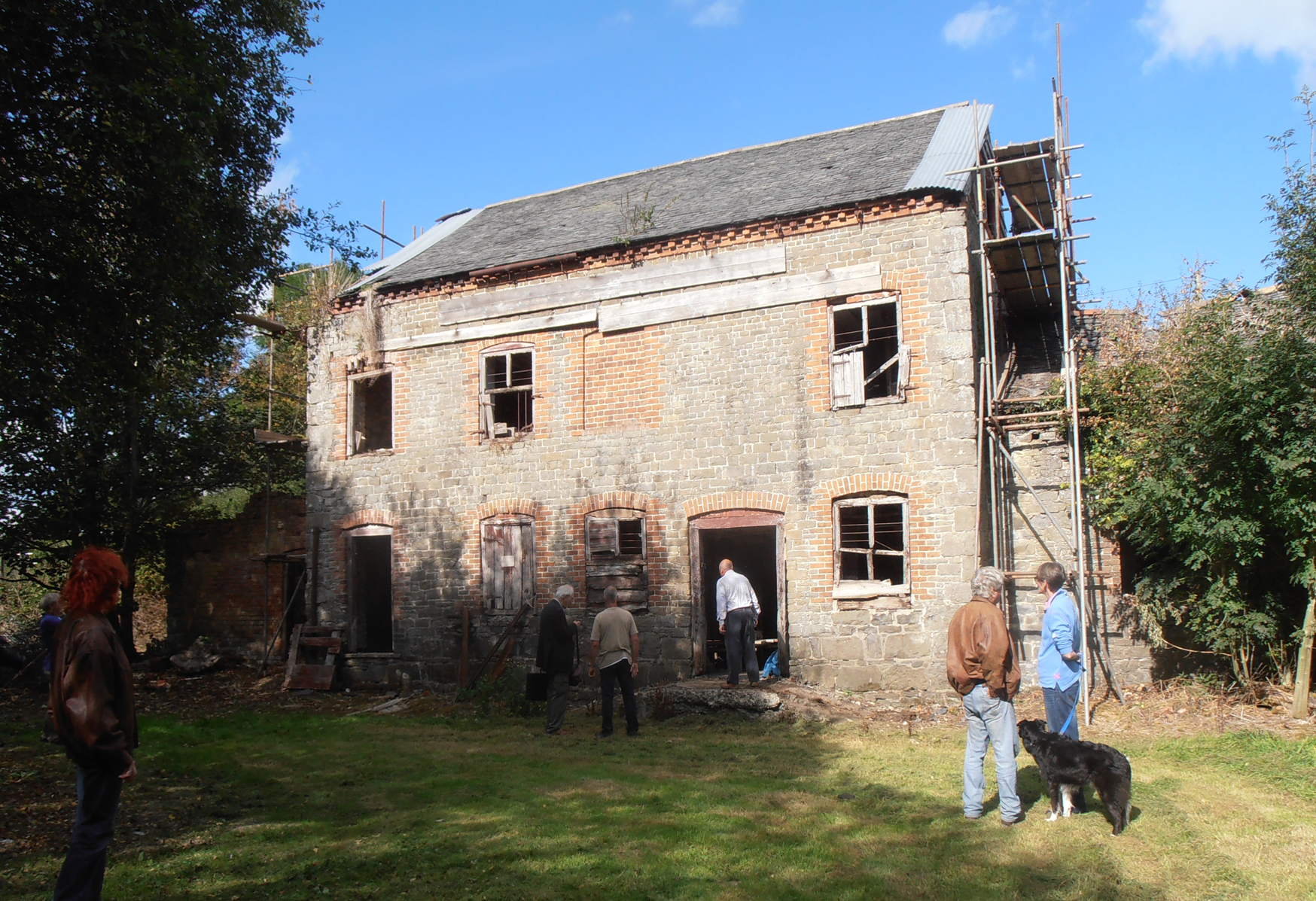 Rhydlydan Mill
The kiln is a 'funnel' type, with a central brick stove about 4' high with a castellated top capped with stone to provide four openings one on each face at the top for the smoke to escape within the funnel. Apart from the high quality of structure and millwork, this mill is most interesting as an
example of the adaption of a 'foreign' tradition to local conditions. All its main design features derive from another region. The internal waterwheel, the great headroom on all floors, the very well- developed bin floor - all this would be commonplace in East Anglia, or Kent, but quite out of place in Mid Wales. Even the overdrive is not unknown in eastern England, but elsewhere it is very rare. Each pair of stones has a loading platform by its hopper, with a ladder to it, for grinding small parcels of grain.
See www.milldrawings.com/html/rhydlydan.html