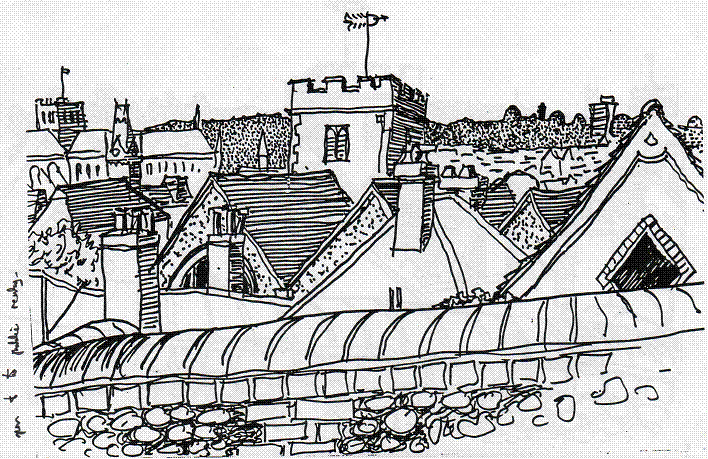 Andrew Rutter writes to tell us of a National Trust owned mill which has made a lasting impression:
Dear Sheila, I enclose information about a wonderful mill that I visited some years ago and other HMG members may find interesting.
When we paid our annual visit to the Lake District, we broke our journey north with visits to National Trust properties, one of which was this mill. It is quite different from Hampshire's mills and constructed in hilly country.
The stream that drives the mill is exceptionally small so the original millwrights built a robust stone dam across the valley and created a lake, which also acted as a moat for a large country house on aan island..
The back of the mill formed part of the town wall, hence its unusual shape. In the morning the dam would be full and for a period of 8 hours the millers could draw off 3 times the volume of water flowing in. To cope with dry spells and winter floods other reservoirs were created.
The history and details of the mill are exceptionally well documented and make a visit an interesting one - although for partners who don't share our enthusiasm for old mills, there are very attractive gardens open to the public nearby.
A comprehensive survey was compiled by Mike Redfern in 2004 which includes the histories of the former families and millers as well as the mill itself. The National Trust advises that this is one of only 4 corn mills found in Cheshire. The Domesday Book entry lists it as a 16th century mill although Mr Redfern, who is the National Trust warden and guide at the mill, has researched records thoroughly and found a mention of it in 1290. Here is his opening introduction which beckons one on to discover more.
"The current mill building is located on the only suitable stream in the parish of Nether Alderley
(SJ 8434 7923). It sits in a steep sided narrow valley running east-west, although immediately west of the mill the valley widens considerably. It has been suggested that the position of the mill took advantage of a natural break in the stream bed which formed a waterfall at this point. The stream cuts into the natural bedrock of sandstone and the faulting of these layers may well have produced such a feature although this cannot be confirmed. The earliest mention of a mill at Nether Alderley occurs in 1290, but little is known of the building and no trace of machinery survives from this date. The next confirmed reference to the mill occurs in 1591 in an Inquisition Post Mortem (inquiry into property and effects) held on the death of Thomas Stanley, when both the manor house and the water mill are recorded."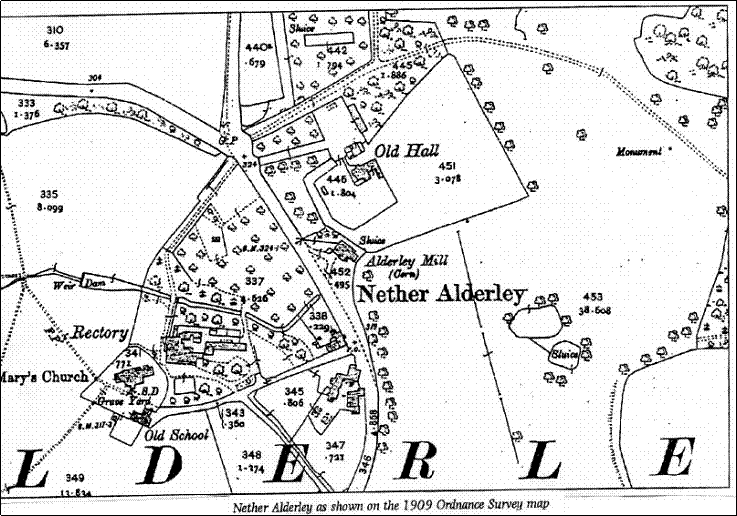 This 1909 OS map shows the locations of the reservoirs, channels and leat to the mill.
The National Trust website entry for the mill states that it can only be opened to group visits so Andrew must have struck lucky! If you are in the area why not ring the property contact number as it seems you are likely to get Mr. Redfern himself. Here are the details: Nether Alderley Mill, Congleton Road, Nether Alderley, Macclesfield, Cheshire SK10 4TW Telephone: 01625 445853 Email: netheralderleymill@nationaltrust.org.uk