Having milled stone ground flour on site for more than 900 years using the power of the Tide, the historic Eling Tide Mill is proud to announce the production of a brand new brown flour – "Flour of the Forest Brown".
This has been made possible due to the restoration of the Flour Dresser; this piece of machinery removes the larger bran particles from the already produced Wholemeal, using a traditional sieving method and creates 'brown' flour.
The Mill is using the local wheat grain from the Manor of Cadland and has qualified again for the prestigious New Forest Marque - a recognized sign that is easily identified and ensures that all produce is from the New Forest.
This Brown flour along with the two wholemeal flours, is very good for bread making but as it is finer, can also be used for some cakes. All are available to buy at the Eling Tide Mill shop and also from other local outlets, see the website www.elingexperience.co.uk for more information and stockists.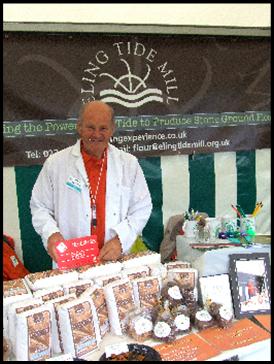 The picture shows David Plunkett, one of the Tide Mill volunteer millers, on the Town Council's Tide Mill stand.
Eling Tide Mill Stand Wins First At New Forest Show
Eling Tide Mill had it's first stand at the New Forest Show this year. Following the takeover by Totton & Eling Town Council in January, the Mill has significantly increased the number of milling sessions, making full use of the tides during opening hours, to ensure that we are milling as often as possible when visitors come to see us. Therefore, we have been actively seeking new outlets to sell our increased quantities of flour. The show was the perfect platform not only for this but also to raise awareness of the mill to the many thousands of visitors to the show.
The stand had information about the world famous Eling Tide Mill and had both Flour of the Forest and Canute flours available to buy as well as the biscuits made from our flour. We also had bread made with the flour available as tasters which proved very popular.
The Tide Mill has had an excellent year so far increasing its visitor numbers and flour sales significantly and the Council were absolutely delighted to be presented with the "First Trade Stand'' Hants Life Local Food. Helen Robinson, who is the Manger of the Eling Experience, said "its was really good to see so many visitors to the Show interested in the Tide Mill and winning the First Award was an unexpected but lovely surprise and made our first visit to the Show an event to remember".