Also this year we revisited the Faroe Islands which we had previously explored 9 years ago.
Geographically, the Western Isles and the Faroes are quite similar, isolated groups of islands in the wild wet Atlantic, with an economy based on fishing (and whaling) and subsistence farming, and with a fairly sparse population. Their traditional approach to flour milling is therefore strikingly similar but the buildings appear quite different due to the available rock types. The mills on Lewis were constructed from boulders of Lewisian gneiss, one of the oldest and toughest rocks ion the world, whereas the Faroes are volcanic and the rock is slightly easier to use for straight walls. Also timber (historically from driftwood) seems to be more widely available. I suspect that the mills in the Faroes continued to be an integral part of the community long after those in the Western Isles had been abandoned.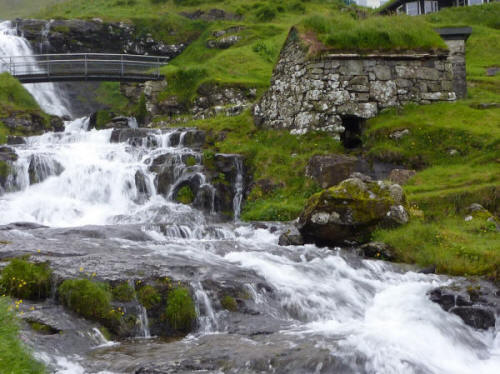 They are typically located on streams in the centres of villages and are cherished as an important memory of the past. In the Western Isles it is very noticeable that the mills are generally located on isolated and less accessible sites, often a long way (miles) from other buildings.
The mill in Bour (left and below) is one such cherished survivor.
When we visited in 2010 its stones were in position (left) so you could clearly see the click mechanism attached to the hopper and the wear pattern on the runner stone.
This year the runner stone had been lifted and was displaying its rather stylish dressing. The mill is possibly still usable and is clearly now a party venue, complete with night lights.