Whilst down in Cornwall I visited the Cornish Mining World Heritage Site at Geevor and came across this 18ft waterwheel and a set of stamps. Before the days of electric power and steam engines, water power was widely used to operate machinery in the mines.
The wheel shrouds were cast by Sarah's of Camborne. Their foundry was in Redbourne Road and known as Railway Foundry. It was operated by Edward Tregaskis Sara and later by Gordon Richards, closing when he retired in the mid-1970s.
This wheel originally drove a set of 8 Cornish Stamps at Locks Farm (also known as Trelocke farm) at Nancledra in the Red River valley, 3 miles south of St Ives in the former mining area of Penwith. The stamps are believed to have been made by Holmans of Penzance.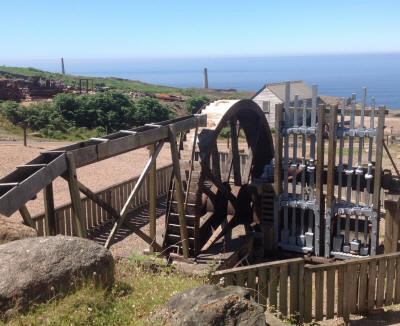 Wheel and Stamps in their final resting place Andy Fish 2018
The stamps were in use until the early 1950s to reprocess low grade mine waste by crushing it to a fine sand, prior to it going to be further processed into tin concentrate, which was then sold to the smelters. Even though not much concentrate was produced, the process was considered worthwhile due to low running costs.
They were saved and dismantled in the early 1980s by Clive Carter who lived at nearby Canons Town. He restored and re-erected them at the original Geevor Tin Mine Museum.
After the mine closed in 1990 they were again removed and restored, before being installed in the new Geevor museum by Clive and John Williams and Jerry Harvey from Pendeen, with technical input from Clive Carter.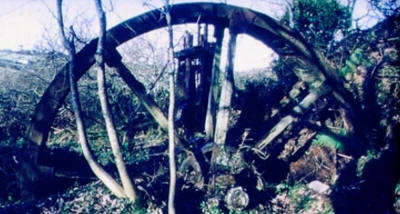 The wheel and stamps at Locks Farm in 1983 before
dismantling started Geevor Mining Museum